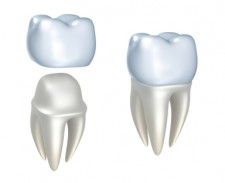 When a tooth has been affected by significant damage or decay, our Eugene, OR dentist, Dr. Rust, may place a porcelain crown to restore function and beauty to the mouth. Crowns are restorative treatments that completely encase the surface of the tooth. Porcelain crowns are also an aesthetic treatment option that can restore:
Decayed, fractured, or broken teeth
Imperfectly sized or shaped teeth
Teeth that have recently received endodontic treatment  (root canal)
Porcelain crowns can also be used to complete the implant procedure, providing a beautiful, stable, and strong replacement for missing teeth. We invite you to call our office today to learn more about porcelain crowns, implant dentistry, and how we can improve the health and beauty of your smile.