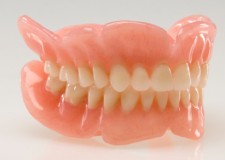 One of the many treatment options we have available to those who are missing teeth is the denture. Dentures are removable appliances that are made to:
Replace missing teeth
Restore your ability to chew and speak
Enhance the beauty of your smile
Restore facial volume
At our Eugene, OR dental practice, our dentist, Dr. Rust, can provide either complete or partial dentures, depending on your needs. Complete dentures are used when you are missing all of your natural teeth, while partial dentures are created when only some of your natural teeth are missing. When in place, dentures can give you the beautiful, functional, and complete smile that you have been missing. We invite you to call our office soon to learn more about the benefits of dentures and partials.